EDF boss gives no date for Hinkley Point power station build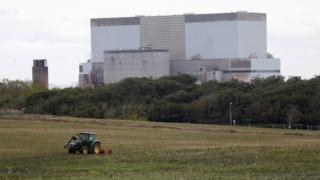 The boss of EDF Energy has told MPs he does not know when a final investment decision on the £18bn Hinkley Point nuclear plant will be made.
Chief executive Vincent de Rivaz appeared before the Energy and Climate Change Committee to answer questions about delays to the project.
EDF Energy is controlled by the French state and wants to build the plant backed by Chinese investment.
The final investment decision had been due to take place this month.
During the session, de Rivaz told MPs that some of the company's trade union members had suggested the project should be delayed by two to three years.
The final decision would be taken once a consultation by the company's central works council had taken place.
That consultation began on May 2 and will run for at least 60 days.
"I don't want to prejudge the outcome of the consultation the sooner we have the final investment decision the better," he told the committee.
Also during the session, MPs heard in a letter from the French Economy Minister Emmanuel Macron that his government remained committed to the project.
"I can appreciate that a certain amount of impatience may be creeping in as the project is key for the UK's energy and climate policy," Macron wrote in the letter dated 23 May.
If the final investment decision is made, the new nuclear power station would be built in Hinkley Point in Somerset, where there are two existing power stations, A (which is currently being decommissioned) and B.
Greenpeace has pointed to the delays due to the complex design of the European Pressurised Reactor model and called on the government "to wake up to the alternatives" to nuclear power.