Somerset children's services adopts long-term plan to boost standards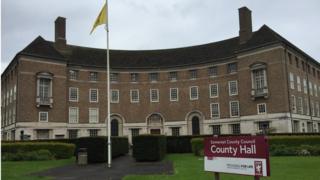 A three-year plan to improve children's services in Somerset has been adopted by the county council.
Last October, the government said the council needed a long-term plan after two consecutive ratings of inadequate.
Director of children's services, Julian Wooster, said: "We're optimistic we're improving significantly so we can get a better rating next time."
The plan involves recruiting more social workers and supporting parents and children more effectively.
The inadequate Ofsted ratings were in August 2013 and March 2015.
Mr Wooster added: "There's been a significant improvement in the past 14 months, case loads for social workers are down.
"We've got more social workers working in Somerset and we have more children that are being supported and helped with the increased resources the county council has given us."
He added the Department for Education was "happy with the progress to date" but admitted they "still had a long way to go".
Last May, the council invested £6m in the department and announced it would recruit 100 extra permanent social workers by 2018.
So far, the council has brought in 44 new staff and is still making efforts to recruit more.
"What's holding us back is the recruitment of key staff and once we have those staff in place we can develop," said Mr Wooster.