Veteran, 93, and wife of 25 years reunited after lack of home care forced split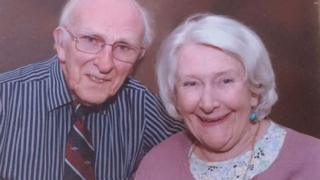 A 93-year-old former RAF pilot said he is "delighted" to have his wife back at home after the couple were forced to live apart when her home care stopped.
Julie Brown was receiving daily visits from carers provided by Somerset County Council after coming out of hospital.
She was moved into a care home, leaving her husband Graham to make a two-hour round trip by bus to visit her. They were apart for seven weeks.
A private carer has been organised using a direct council payment.
The council said there is "currently a shortage of home care available in the Wells area".
"I'm overjoyed. I've thought about home every day," Mrs Brown said.
"Graham has been to see me nearly every day, which has been difficult for him."
Mr Brown said now his wife was at home he could "carry on as I used to instead of spending a lot of time travelling every day".
William Wallace, the adult social care spokesman for the council, said: "It's very unfortunate and we do our best to keep these sort of things to a minimum."