Stephanie Fricker awarded Queen's Nurse title for work with children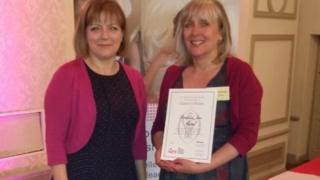 A specialist paediatric nurse has been awarded the title Queen's Nurse for her work with young people in Weston by the charity the Queen's Nursing Institute.
Stephanie Fricker cares for children with autism, sleep issues and attention deficit hyperactivity disorder.
The title recognises "continuing commitment to improving standards of care in the community and to learning and leadership".
Ms Fricker said she was "honoured" to receive the Queen's Nurse title.
'Expert professionals'
In her work in the community she assesses children's needs in the family home, in clinics and hospitals.
"It is important nurses are recognised for their contribution to the NHS," she said.
Helen Richardson, Director of Nursing at Weston Area Health NHS Trust said: "It's perfect timing on International Nurses' Day - a day where we celebrate our nurses and thank them for their dedication and care."
Dr Crystal Oldman, Chief Executive of the QNI said community nurses are "expert professionals who make a vital contribution to patient health and wellbeing".
The Queen's Nurse title was reintroduced by the QNI in 2007 after a gap of 40 years to "safeguard and promote high standards in patient care".
All Queen's Nurses are given a free learning and development programme, as well as access to regular meetings and educational bursaries.
The title is open to community nurses working in England, Wales, Northern Ireland, the Channel Islands, and the Isle of Man, including practice-based nurses and those working outside of the NHS.