Drivers rescued after three cars stranded in beach mud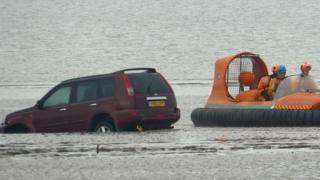 Three cars became submerged on a beach in Somerset, prompting a warning for motorists to beware of high spring tides.
Crews from Burnham-based BARB Search & Rescue said they were called out "multiple times" by people who ran into trouble at Brean beach.
BARB chairman Mark Newman urged people to check the tide times.
One motorist was rescued on Friday while a further two became stuck on Saturday.
Mr Newman added: "Always heed the warning signs and stay away from the muddy areas of the beach."