Bath zebra crossing row after council mix-up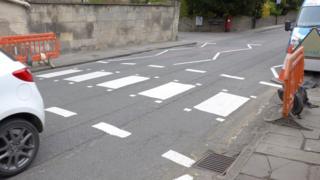 A new pedestrian crossing may have to be removed after a councillor admitted it was built without proper agreement.
The Lansdown Road crossing was laid by Acorn Property Group, which is redeveloping Bath Royal High School.
Acorn said all works were carried out with the agreement of Bath council.
But councillor Anthony Clarke said the crossing does not fulfil statutory requirements, and residents have complained that they were not consulted about the plan.
Mr Clarke, Bath and North East Somerset Council's transport portfolio holder, said he was "the only person" able to authorise the work, and "knew nothing about it".
This is despite the authority's Streetworks team confirming it had been in talks with the developers regarding "all highway issues".
Mr Clarke said: "We have found ourselves in a position where the left hand doesn't know what the right hand is doing."
'Good intentions'
He said there had "not been sufficient communication" from the council's highways department.
Residents said they were concerned the crossing had been installed in the wrong location, and that it did not include beacons.
Acorn said the matter was under review after comments made by residents, and it would respond to any of the council's requirements.
The firm said barriers had been placed across each approach to the crossing, and that it would not be made available for use until the problem was resolved.
Mr Clarke added that he had no doubt the developers built the crossing with "good intentions", and would work with them to "get the scheme in place".