Frome's community fridge aims to reduce 'avoidable' food waste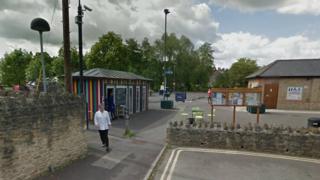 A "community fridge" where people or businesses can share surplus food that would have been thrown away has opened in Somerset.
People can donate vegetables, bread, sandwiches and packaged goods within their use-by date to the project in Frome, but not raw meat, fish or eggs.
Edventure, which is working with the town council, said most food waste is avoidable and could have been eaten.
The fridge is located in the Loop de Loop block, near the town's library.
Those behind the project say the average UK household wastes £470 worth of food every year.
"Every day we throw away 220,000 loaves of bread, five million potatoes, and 660,000 eggs," an Edventure spokeswoman said.
"At the same time an estimated four million people live in food poverty in the UK and don't eat enough fresh fruit and vegetables".
'Food poverty'
People wanting to donate produce can place their contribution on the appropriate shelf.
But organisers say it can only accept cooked food from certified kitchens and will not be able to accept home-cooked food.
The project is now looking for volunteers to check the fridge, which will be open from 08:00 to 20:00 daily.