Somerset cheese maker banned over listeria find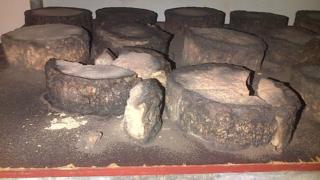 A cheese maker who sold products containing potentially lethal bacteria at farmers markets across London has been banned from producing the food.
Frances Wood, 70, traded as Alham Wood Cheeses supplying mozzarella and white cheeses to pizzerias and markets.
Tests found her products contained listeria, salmonella and E. coli.
Mrs Wood, of West Cranmore, Somerset admitted breaching food safety regulations, was fined £787 and ordered to pay £5,000 in costs.
She pleaded guilty at Yeovil Magistrates Court on 20 April to two offences under the 2013 Food Safety and Hygiene Regulations.
When sampled by independent approved laboratories, her products consistently showed the presence of harmful bacteria, notably listeria, which kills approximately a third of those infected.
The Food Standards Agency has labelled listeria as "one of the most lethal of all food pathogens".
District Judge Rose imposed a Hygiene Prohibition Notice, preventing Mrs Wood from working with cheese in the future, and described her business a "shoddy" and "rather amateurish" operation.
He said she had been "taking risks when she shouldn't have" and stated that cheese was "a high-risk product and therefore higher standards of diligence were required".
Corporate manager at Mendip District Council, Stuart Cave, said he was "delighted" with the court's decision.
"Despite repeated attempts by the council's environmental health officers to work with Mrs Wood to ensure she produced a good quality, safe product, she continued to produce cheeses which posed a danger to public health," added Mr Cave.