Hundreds of nest boxes for hazel dormice installed in Somerset hills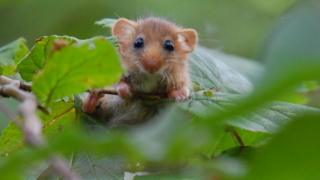 More than 300 wooden nest boxes for hazel dormice have been installed on the Blackdown Hills in Somerset.
They were put up by volunteers at six sites across the Area of Outstanding Natural Beauty (AONB).
The mammal is facing extinction due to loss of habitat and organisers said there had "not been many records of them" in the Blackdown Hills.
The boxes will be regularly checked over the next few years as part of The National Dormouse Monitoring Programme.
James Maben, from Blackdown Hills AONB, said installing the boxes was "the only way" to keep track of how the species was faring.
"They spend most of their time in the tree canopy and they don't come down to the forest floor so you don't normally see them," he said.
"In the first year we might get birds and other mice in the boxes but we're not expecting to have any [dormice] because it takes time for the nest boxes to bed in."
Once widespread throughout much of England, the hazel dormouse is now vulnerable to extinction.