Somerset villages use satellite in broadband project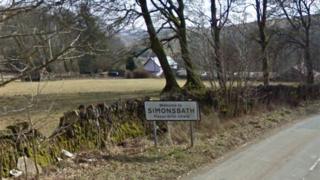 A trial to deliver three remote villages with superfast broadband using satellite technology has been completed after two years.
Satellite Internet brought superfast broadband to Luxborough, Simonsbath and Broomfield in the Somerset test pilot.
Chairman of Broomfield Parish Council, Duncan Henderson said: "We've always had some form of broadband but it's been extremely slow and erratic."
Now the market test is over, users can choose to subscribe to the service.
He added: "When I first started investigating this, there were some people that didn't even get the emails that I sent out in order to ascertain what the broadband signal was like, so we really had a serious problem."
Connected
The technology works by bringing in the main feed by satellite and then distributing the signal around the village using wireless technology.
Funding for the pilots was made available in March 2014 and the first installation was completed in Luxborough in January 2015.
Simonsbath was connected to the service at the end of 2015.
Final approval for Broomfield was given in January and the installation was completed within seven weeks for 24 properties.
So far across the three villages, about 60% of households have continued subscribing to the service.
They were eligible for the project because they were in hard to reach areas not covered by the council-led Connecting Devon and Somerset project, which aims to cover 90% of the two counties.
The government defines superfast broadband as anything which provides a connection better than 24 megabits per second.