Dunster Castle opens underground Victorian reservoir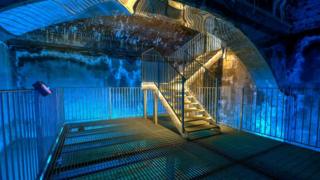 An underground Victorian reservoir has opened for the public to walk around for the first time.
Visitors to Dunster Castle near Minehead had previously only been able to see the reservoir through a grille.
The new walkway 4.5m (15ft) below the Keep Garden lawn allows people to "grasp the scale of this unusual space", the National Trust said.
The reservoir was built in 1870 and held 40,000 gallons (182,000 litres) of water.
It was sold to the Somerset Water Board in 1967 but by 1976 had been abandoned.
An audio and light presentation have been created to show off the space as part of a £25,000 project by the trust.
"Visitors can choose to hear a recording about the engineering technology used to build the reservoir and the lighting and sound give the impression of ripples of water underfoot," said Seamus Rogers, general manager at Dunster Castle.
The reservoir was established as part of a range of improvements made by owner George Fownes Luttrell when the estate was at its most prosperous.
By 1897 it was being used to supply homes in Minehead with running water.