Permission for 24 over-sized huts in Weston-super-Mare sought by council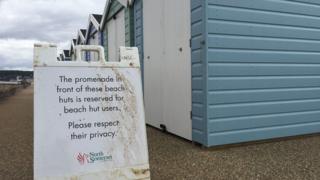 Permission for dozens of beach huts to stay on the sea front at Weston-super-Mare is being sought by the council.
North Somerset Council built 24 huts on The Promenade last year but it was found they were up to 20% bigger than they were given permission for.
To bring the huts "in line" with their planning approval the council has had to apply for retrospective permission.
Toby Blackburn, who raised the issue, said the application was "pretty inadequate in addressing the problem".
The authority was granted permission for more than 100 beach huts - 28 at Marine Parade and a further 97 on The Promenade - in March 2015.
Mr Blackburn, from Weston, said the amended application was not only "inadequate" but still failed to show the "right number of huts".
'Physically impossible'
"It's physically impossible for them to fit that number of huts in the space that they have and that ultimately means the council should have had to put in an entirely new application," he said.
North Somerset Council insists it is just a "minor material amendment".
"The 24 huts will remain exactly the same with no change to their size or colour," a spokesman said.
"There are no immediate plans to introduce any more huts along the promenade, but we will keep the situation under review."