Shepton Mallet cider firm snaps up £6m bottling line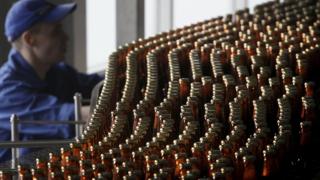 A cider-maker which is vacating a large mill in Somerset has sold part of its Shepton Mallet base to a rival.
Brothers Drinks has bought a high-speed bottling line off the Dublin-based C&C Group and says it is considering buying more of the site.
The facility can produce 1.5 million bottles a day and is located over the road from the main cider mill.
Some 120 jobs are under threat as the C&C Group looks to consolidate its production at one site in Ireland.
Billy Mason from C&C said: "We are pleased to have found a trade buyer for a part of the Shepton site and especially pleased that this will provide an opportunity for some C&C employees to join the Brothers team.
According to the union Unite, the bottling line cost an estimated £6m and had never been used.
Jonathan Showering, director of Brothers Drinks, said it was too early to say how many jobs the new facility could create.
Last Friday, a Unite spokesman said the last batches of four cider brands - Blackthorn, Olde English, Addlestones and Natch - were being made.
The union has repeatedly called on the C&C Group to find a buyer for the site.