Firms asked to fund lollipop patrols in North Somerset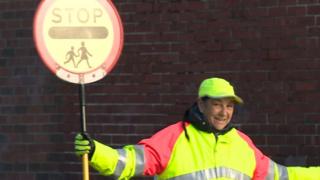 Businesses in North Somerset are being asked to sponsor lollipop men and women as funding for the service is being withdrawn by the local authority.
North Somerset Council said it was a cost-saving measure to deal with cuts in funding from the government.
It said cutting all of its current crossing patrols in the autumn would save about £29,000 a year.
Town and parish councils are being asked for funding and schools have written to businesses for sponsorship.
The council hopes if the response is successful, the new "traded service" could be available by September.
A spokesperson said: "The new service, that is looking for financial support from local businesses alongside schools and town and parish councils, could enable local communities to pay for patrols.
"We would encourage businesses and other groups willing to work with the council to deliver this service in a new way, to contact us as soon as possible."
There are currently 26 school crossing patrol sites in North Somerset with 17 not being operated. The nine live sites are being operated by a mixture of permanent, temporary and volunteer staff.