Family anger over death crash killer's bid to be freed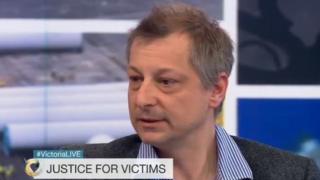 A bereaved father has spoken of his disbelief at the criminal justice system which could see his daughter's killer freed after 15 weeks.
Jasmine Larder, of Baltonsborough, was handed a 15-month sentence after killing two people in a car crash.
Simon Clare said: "It's unbelievable really - because I live in a society where I rely on the justice."
She is now appealing her sentence after failing to be released under licence after serving 15 weeks in detention.
The 20-year-old was convicted of two counts of death by careless driving after the fatal crash in June 2014. She killed her best friend, Ellie Clare, 19, and George Scott, 21.
Due to her age, she served her sentence at a young offenders' institute.
Larder applied for a Home Detention Curfew (HDC) after serving her minimum term of 15 weeks.
Speaking on the Victoria Derbyshire Show, Mr Clare added: "Fifteen weeks was totally unacceptable and no-one knew anything about this.
"I even spoke to the police and several people about it. Everyone was absolutely shell-shocked that this could even happen."
After he and the Stott family campaigned against the application, it was rejected by the prison service.
A Prison Service spokesperson said: "Our sympathies are with the victims' families in this case.
"Protecting the public is our priority and only prisoners who pass a strict risk assessment can be released on home detention curfew.
"Their release is not automatic and they will remain subject to strict licence conditions and can be recalled to prison if they breach them."
Earlier this month, Larder appealed against her sentence and conviction. She was given leave to appeal against sentence but her conviction was upheld.
"I'm fighting for the average person to be aware that when these judges hand down these sentences - this is not what's going to happen," added Mr Clare.