'Police' scam pensioner fund raises £7k overnight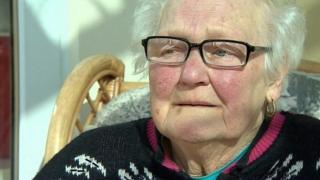 An online fund for an 83-year-old woman who was scammed out of £30,000 by a gang posing as Metropolitan Police officers has raised £7,000 overnight.
Eileen Gould, from Somerset, was tricked into handing over her savings to conmen after being told her bank was being investigated by the fraud squad.
A Go Fund Me website appeal set up by Lyndsey Brennan has raised over £8,000.
Ms Brennan said: "To see her cry was heartbreaking - I just wanted to help her replace what she'd lost."
'Spiteful and nasty'
Ms Gould said she was talked into withdrawing all her money from the bank following an "unexpected phone call from the fraud squad".
Over a six week period, she was also persuaded to take out a loan and hand over £30,000 to a fake police officer who called at her door.
"They swooped in and they took everything and they've left me in debt," she said.
"They took my funeral money and they took away my dignity and I don't know if there will ever be a life for me again."
Following reports of the scam, an online donation page was set up on the Go Fund Me site by Ms Brenna with the aim of raising £10,000.
In the last three days it has reached £7,690 with more than 396 people contributing, raising more than £8,000 in the last 12 hours.
"It was spiteful and nasty - leaving her penniless and in debt," said Ms Brenna.
"I hope it never happens to their family. If it does they're going to know how it feels."
Police are investigating.