HMP Shepton Mallet revamp sparks unmarked graves fear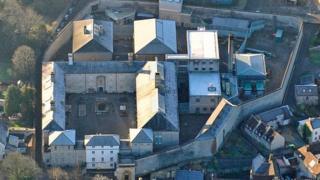 Graves belonging to executed criminals could be dug up to make way for new homes on the site of a former prison, residents fear.
City & Country has submitted plans to turn HMP Shepton Mallet into 146 homes and a museum.
But campaigners are concerned bodies are still buried at the site which need to be "taken care of".
The developer said "any human remains deserve respect" and is working with a specialist archaeologist firm.
Mendip District Council is currently considering the application.
'Leave bodies there'
City & Country wants to build 58 new homes and create 88 apartments from existing buildings at the Grade-II listed prison, which closed in 2013.
It is planning to retain seven prison cells and convert part of the B-wing into a heritage space and cafe.
Richard Winsborough, from the company, said it was considering ways not to disturb the unmarked graves.
"We want to make sure these buildings are conserved and brought back into beneficial use, he said.
"And if the bodies aren't actually being disturbed by what we're doing - then one school of thought is why not leave them."
Campaigner Claire Sully said local people were keen to preserve the site's heritage.
"To a certain extent we're reassured that City & Country will maintain as much of the building as possible," she said.
"But there are lots of stories and lots of history and there are bodies under the prison that need to be taken care of - so it's not a straight forward development."