Bath Half Marathon: 45,000 people turn out for race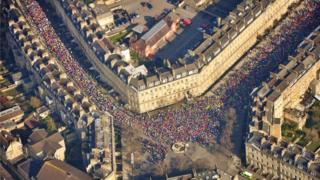 Some 15,000 runners turned out for the 35th annual Bath Half Marathon, with 30,000 spectators filling the city to watch.
A number of roads were closed and parking restrictions put in place due to the size of the event.
Comedian Russell Howard, rugby star Lewis Moody and swimmer Sharron Davies MBE were among those taking part.
Kenyan athlete Robert Mbithi won the race in a course record time of 1:01:45.
He was nearly four minutes quicker than last year's winner, Paul Martelletti.
The sporting spectacle raised a record £2.1m for charity in 2015.
This year's race was the last on the current course as in 2017 the first change in 10 years will be introduced due to redevelopment of the Green Park area.
'Body screaming'
For Johnny Reynolds ,from Radstock, Somerset, the race was his thirteenth out of 14 half marathons inside 60 hours.
He is fundraising for charity and said he was determined to complete the challenge although it had been gruelling.
"It's one of those things where you have to be really disciplined with yourself to make sure you keep going right the way through the night," he said.
"When it's really cold and at two in the morning your body is screaming at you to stop. But you can't as you have another twenty miles to do."