Bath architect's silver drawing set sold for £26,000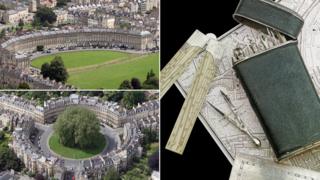 A silver drawing set which belonged to the family responsible for designing part of Bath's famous appearance has been bought at auction.
The 271-year-old set includes a silver rule, an ivory rule, an ivory sector rule and six instruments and was used by architect John Wood the younger.
It could have been used by the father and son who designed both the Royal Crescent and The Circus in the city.
The set was sold for £26,000 - three times higher than estimated.
'Unaware of significance'
John Wood the Elder designed The Circus but it was completed in 1768 under the direction of his son, John Wood the Younger.
It was the younger John Wood who constructed The Royal Crescent in the mid-to-late 18th century which is one of the most architecturally recognised landmarks in England.
But, according to the auctioneer, the owner of the drawing set "had not noticed the significance of the name on the case".
"The vendor's adult son who attended the sale with his mother confessed to regularly playing with the set as a child, but fortunately it had survived over 250 years largely intact," a spokesman said.
The set, which dates from about 1745, is five inches (13cm) tall and bears both the engraved Coat of Arms of John Wood and his name in script.