Drag racing legend 'Mr Six' to enter US Hall of Fame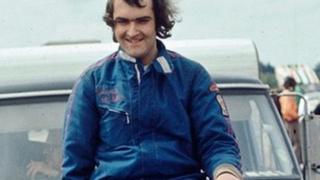 A UK drag racer is to become the second Brit in history to be inducted into the International Drag Racing Hall of Fame.
Dennis "Mr Six" Priddle has been described as one of the most "prolific pioneering legends" of the sport in Britain in the 1960s and 1970s.
In 1972, he became the first man outside North America to record a time inside six seconds for a quarter mile.
Mr Priddle, from Somerset, will be inducted in Florida next week. He said it was a "huge honour".
Mr Priddle was an apprentice at Westland Helicopters in Yeovil when he first got a taste for the sport at a Dragfest in the mid 1960s.
"These eight American cars ran an elimination and in the final run, a guy smoked the tyres from start to finish and ran just over 200mph," he said.
"That was it - I was hooked and had to have one."
In 1968 he and a team partly pulled from Westland built a methanol fuelled dragster and "turned up" at Santa Pod Raceway in Bedfordshire, where he said they "blew them all away".
Over the next decade the team "went from strength to strength", taking on Clive Skilton - another notable British drag racer - in quarter mile battles across Britain and Europe.
It was in 1972 his status as a racing great was sealed when he nailed a "six second run" - earning him the nickname Mr Six.
"It's impossible to describe. That sort of acceleration is ludicrous," he said.