Primary school in Somerset 'twinned' with refugee camp in Iraq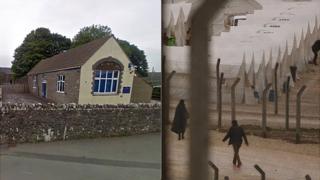 A primary school in Somerset is to be "twinned" with a refugee camp in Iraq.
Priddy and St Lawrence's Primary School will send letters and pictures to Yazidi Refugee Camp School and link via the video chat app Facetime.
The aim is for pupils to learn what it is liked to be displaced by conflict and to raise funds for a new classroom.
Ravi Singh, who is behind the idea, said the camp was "not very far from the war" and the "friendship" would give "some hope" to the children there.
Mr Singh, from the Sikh humanitarian charity Khalsa Aid, said the camp was just 35km (21m) "from the war" but in a "safe area".
"The refugees we're helping in northern Iraq - the Kurdish Region - are Yazidi refugees; they are the ones that suffered the most after the 2014 rise of Isis in the area," he said.
"Some of the refugees we're working with are in a really isolated location so we're trying to help the children, who are really stranded."
'UK First'
Over the next few days, Mr Singh is due to return to Iraq to deliver the children's letters and drawings and set up a Facetime chat.
Headteacher Rosie Thorner said she had been "so impressed with the empathy" shown by the children.
"They have been so creative with the letters they have written and the pictures they have drawn," she said.
"I've certainly not heard of anything like it before, but for us it's a really, really positive project for the children to get into."
The Federation of Priddy and St Lawrence School includes Priddy Primary School in Priddy and St Lawrence's C of E Primary School in Westbury-Sub-Mendip.