Damaged Bridgwater pipe leaves 1,300 homes without gas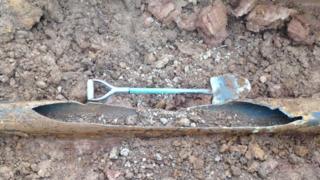 More than 1,300 homes in two villages are without gas after a pipe was damaged in Bridgwater.
Engineers from Wales & West Utilities went door-to-door in Cannington and Nether Stowey to switch off supplies before repairs were carried out.
Each home will be visited again later to switch the gas back on and test appliances.
Manager Stephen Pitman apologised and said the pipe had been "seriously damaged" by a "third party".
"We are now in the process of finishing the repair to the damaged pipe," he added.
Information about the repairs to the pipe - which was damaged at around 14:00 GMT - will be updated on the company's website.