Shepton Mallet Cider Mill told of first job losses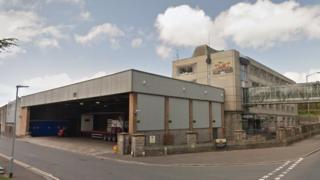 The first redundancies have been announced at a cider mill in Somerset, a union has said.
Forty people will stop working at the Shepton Mallet Cider Mill on 25 May which is "very sad but not unexpected news," according to Unite.
Last month the owner, the Dublin-based C&C Group, said production is being moved to the Republic of Ireland.
It said said fruit pulping would continue on site and apples would still be sourced from local farmers.
Cider brands including Gaymers and Blackthorn are made at the mill, where 127 staff work.
According to the C&C Group, half of the redundancies in the first phase were voluntary.
'Rotten apple'
Steve Preddy, of Unite, said: "The employees and their families are devastated, as you would expect."
He urged the C&C Group to sell the brands made in Shepton Mallet and "accelerate their efforts" to find a buyer for the site.
"The brands and the site would make a very attractive package for a potential buyer at this already profitable site with an enthusiastic and dedicated workforce," he added.
"The owners are proving to be a rotten apple amongst employers."