Rain puts a damper on Taunton Town's football club's finances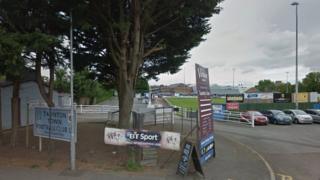 A non-league football club says it has lost more than £16,000 in takings because of the number of games called off due to the weather.
The last four home games at Taunton Town FC's ground have been cancelled and the club says this is having a severe impact on its operation.
Chairman and groundsman Kevin Sturmey said the club was "just keeping its head above the water".
He estimated some six to seven inches of rain had fallen since 30 December.
"We're lucky that football is one facet of our business and we've got other income streams," Mr Sturmey said.
Chief executive of Somerset FA, John Pike, said: "In January and February so far we've experienced probably at least 50% of the games cancelled most weeks and very often that's been up to 75-90% of games."