Witcombe Valley stream to be restored with £19k grant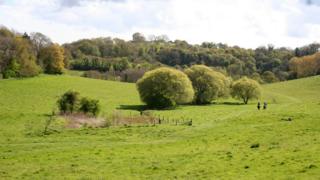 A stream and series of ponds that used to be the centre of a medieval village are set to be restored in Somerset.
South Somerset District Council received nearly £20,000 in Heritage Lottery cash for work in Witcombe Valley, in Ham Hill Country Park.
Apprentice ranger Andrew Painting, said: "The stream was diverted underground a few decades ago to improve the land for farming."
The work is expected to take place over the summer.
"The Valley has a fascinating history including the steep Iron Age rampart slopes of the ancient hill fort and the later medieval village that was deserted in the 16th Century," Mr Painter added.
The Ham Hill rangers also hope it will lead to an increase in the valley's biodiversity and will work with Somerset Wildlife Trust to record the changes.