Historical Somerset prison unlocked for weddings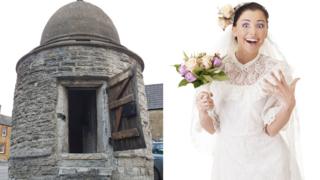 A tiny historical prison in Somerset has been licensed for weddings.
Castle Cary's cylindrical "lock-up" was built in 1779 at a height of 10ft (3m) and width of 7ft (2.1m), according to a plaque on its stone wall.
It is one of only six in the country and the only one that can hold wedding ceremonies, the town council said.
"Couples looking to inject an element of humour in their special day will revel in the 'dramatic irony' this building provides," it added.
The Round House has two iron grills for ventilation and was once used to incarcerate miscreants and drunkards.
"The bride and groom are able to make their vows under lock and key… and manacles if necessary!" the town council said.
---
Licensing conditions the venue must meet:
Must not be in the open air or under a marquee
Premises must be considered "seemly and dignified"
Regularly available for marriages or civil partnerships
No alcohol sold or consumed one hour before and during the proceedings
No religious content (for example music or readings)
Must be freely open to the public
Source: www.gov.uk
---