Bath Rugby Club temporary expansion plans approved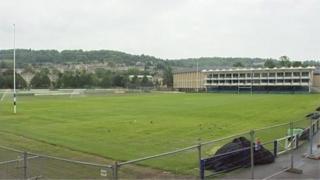 Plans for a temporary increase in capacity by 1,000, at Bath Rugby Club in time for the start of the 2016/17 season have been approved.
Local authority planners agreed a four-year consent for a new enhanced temporary West Stand at the Rec Ground.
Temporary spectator stands along the north and eastern sides of the playing field will also remain in place for another four years.
Bath Rugby Club said it will now focus on a permanent solution at the Rec.
It said the "much-needed" redevelopment of the West Stand will provide supporters with the "best possible game experience".
Bath MP Ben Howlett said: "The 1,000 extra seats will make a real difference allowing even more Bath supporters to support the team."
The plan will increase capacity at the Rec from 13,500 to 14,500 spectators.
The Rec has been home to Bath Rugby Club since 1894.
The Premiership side leases the ground from the Recreation Ground Trust.