Website places Syrian refugees with families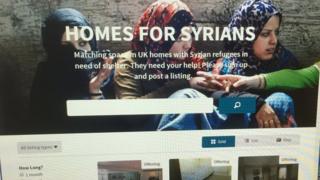 A man was so moved by the plight of refugees he encountered during a summer holiday on a Greek island he set up a website to help.
Richard Moore, from Somerset, came up with the idea for a website to place Syrian refugees with UK families.
"This is something I could do, so I did it," the 47-year-old said.
The site has been running for four months, with one family a day signing up to offer accommodation. Seven Syrian refugees have been placed so far.
Rooms have been offered across the country including London, Leicester, and on a croft in the Shetlands.
Networks like these run on trust, with no reported incidents of exploitation by hosts or refugees.
The first person to offer a bedroom, Jessica, from London, said: "It feels like a small thing to do, to give Ghassan the use of our tiny spare room.
"I think back to after the Second World War. It was just a given, if you had space you would give up a little corner of it to people in need."
Ghassan said: "I hope that I can show people a nice image of the Syrian people. And I hope I can pay back some of this warmth and tenderness."
The refugees have residents' permits, with leave to remain and the right to work.
Mr Moore, a former digital project manager, has so far not taken in any of the 20,000 Syrians identified under the government's resettlement programme, but acknowledges his service could be a useful "stop-gap" if needed.
He is also now considering whether the site - homesforsyrians.uk - should be passed to a charity to run.