Prince Charles given rare 'teenage Queen' photo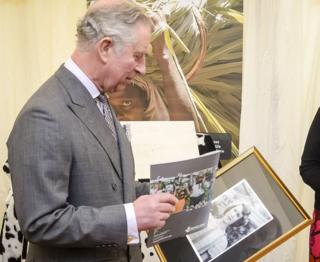 A never-before seen photograph of The Queen as a teenager has been given to her son on an official visit.
The Prince of Wales was visiting a charity in Bath when he was presented with the framed picture of his mother at the age of 13.
"I'll see if Mama remembers it and remembers what she was wearing when it was taken," he told Simon Barnes, chief executive of aid charity Send a Cow.
The 1939 image of Princess Elizabeth was found in an attic.
It was taken by Canadian photographer Lawrence Audrain but rejected for publication by Queen Elizabeth, who later became the Queen Mother, for being too informal.
Mr Audrain's daughter found it many years after his death and gave it to Mr Barnes as a wedding present.
In the black and white photograph, the Princess is wearing a necklace and a short sleeved dress decorated with three small bows.
The Prince was on an official visit to the international development charity which provides livestock and training to seven countries in Africa.
He is president of the charity which was set up 28 years ago by West Country dairy farmers in response to an appeal from Uganda for milk.
Instead of sending milk the farmers donated cows from their herds and had them flown to northern Uganda.
The organisation has expanded to teach communities to grow their own food.