Taunton housing scheme set to go ahead despite objections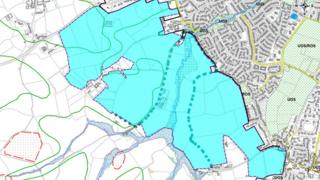 Plans to build about 2,000 new houses on the outskirts of a Somerset town have been granted outline planning permission despite objections.
A new primary school and a 330-space park and ride scheme will also be built as part of the development in Taunton.
Opponents of the scheme said it was too big and in the wrong location.
Taunton Deane Borough Council said the decision on the development was made with "a huge amount of input from the local community".
It is expected construction will take place over 10 years.
Objections to the South West Urban Extension development off Comeytrowe Road had been raised by the neighbouring Comeytrowe and Trull Parish Councils.
However, a borough council meeting saw members vote in favour of granting outline planning permission.
'Big impact'
Chris Winter from Summerfield Developments described it as a "big project" which will "have a big impact on Taunton".
"We've got to provide houses and wherever we put them there are going to be issues," he said.
"The population is growing and we've got to deliver houses and solutions."
The scheme, which has been in the planning stage for three years, will now be refined at workshops with community groups before developers seek full planning permission.