Nine arrests after teen stabbed in Swindon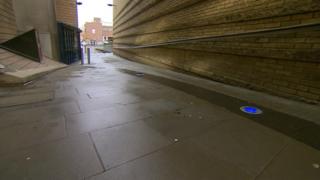 Nine teenage boys aged 13-18 have been arrested after a man was stabbed in Swindon town centre.
A large area around Wharf Green was cordoned off for several hours following the incident on Saturday night.
Wiltshire Police said officers were called to the scene shortly before 19:30GMT.
The 18-year-old victim was taken to a major trauma unit at Southmead Hospital in Bristol with "serious injuries".
Sergeant Gareth Kitchener said: "This was a violent incident involving a group of young people which has resulted in an 18-year-old man being rushed to hospital with serious injuries.
"It is likely there would have been people in the area at the time and I would like to urgently appeal to those people who have not already been spoken to by police to contact us immediately.
"Any information you have, no matter how small, may be crucial to our investigations."