Ponies aid Brean Down grassland conservation work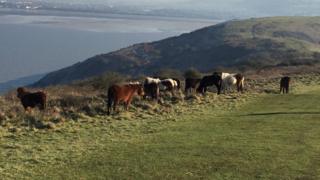 A string of Dartmoor ponies have been moved to Brean Down to protect the grassland by grazing on scrub.
The 65-hectare site is the furthest tip of the Mendip Hills and overlooks the North Somerset coastline.
National Trust area manager Simon Hill said: "These limestone grasslands that we have on Brean are particularly vulnerable to encroachment from scrub."
The ponies will graze on scrub species such as bramble to allow plants such as Somerset Hair Grass to flourish.
Apart from Somerset Hair Grass (Koeleria vallesiana) the area is also home to other rare plants such as Dwarf Sedge (Carex humilis) and White Rockrose (Helianthemum apenninum).
Mr Hill added: "We have 35 Dartmoor ponies up here at the minute, they will push into the scrub and they will trample it down.
"But also it's good for their diet; scrub is high in fibre, it's low in protein and it's what they're nutritionally adapted to."
The Trust already spends some £15,000 a year managing the scrub growth.
"Scrub management, however we do it, is incredibly labour intensive - the thin soils and the short turf really can't cope with heavy machinery," added Mr Hill.
"By having the ponies up here they are helping us out on a much longer term - they'll probably be up here until spring and back on again early to midsummer."