Somerset flood defences: Council tax rise moves step closer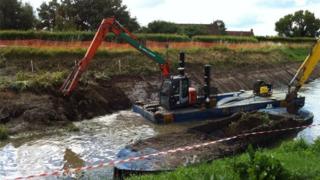 A tax increase to fund flood defence works in Somerset has moved a step closer following a government announcement.
Council tax rises are normally capped, but Somerset's six local authorities will be allowed to increase their shares by 1.25%.
The money will go to Somerset Rivers Authority (SRA), formed in response to the floods of 2013-14.
The increase, which will raise £2.7m, will have to be signed off by councils.
A spokesman for the Department for Communities and Local Government (DCLG) said: "We have listened to the Rivers Authority and are giving Somerset's councils the funding flexibility they need to deal with this issue."
For the average Band D household, the move would mean an increase of about £15 for the next financial year only.
A long-term way of funding the SRA, which is overseeing a 20-year flood action plan, has not yet been settled.
Some of the flood works have got under way already, such as dredging the rivers Tone and Parrett, but the larger plans such as building the Parrett barrage still need to be funded, as does the dredging maintenance.
Chairman of the SRA and leader of Somerset County Council, John Osman said: "We've got a 20-year action plan which needs £300m worth of investment.
"What we've done is we've prioritised and this money will raise £2.7m which will be used for dredging, maintaining the dredge and new infrastructure equipment so if the flooding comes again we'll be able to reduce the depth and the duration of flooding events."
The council tax rise will apply for the next financial year, 2016-17, only.
In the future, the SRA hopes to be given powers to receive money from council tax, as a police force does.