Hinkley pylon scheme in Somerset given the green light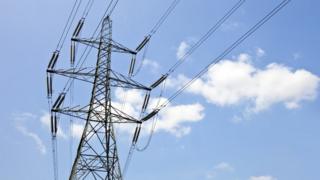 Plans to erect more than 140 pylons connecting Hinkley Point C to Avonmouth have been approved by the government.
The Secretary of State has granted development consent for an application from National Grid, after an inquiry.
The project will carry power from the new proposed nuclear power station near Bridgwater, Somerset, to Seabank near Avonmouth.
Campaigners have criticised the decision, saying the project will ruin the countryside.
The scheme will see 30-miles (48 km) of overhead wires carried on pylons and a five-mile (8 km) section under the Mendip Hills.
'So sad'
It would also see the removal of 246 pylons and 42 miles of older cabling between Bridgwater and Avonmouth, and Nailsea.
Chairman of the protest group No Moor Pylons, Paul Hipwell, said: "I'm so sad. There are going to be 50ft high pylons marching across the countryside.
"This is something our children are going to have to look at for the next hundred years.
"We can transmit electricity under ground.
"It's such a shame they've gone with 1950s technology and didn't have the courage to do what was right for the next generation."
Matt Wooldridge from National Grid said: "This decision will mean we can take energy from Hinkley power station and get it into people's homes and businesses."