Recycling strikes: Further action warned for Somerset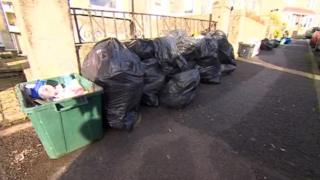 Eight further strikes by waste collection workers around Bath have been scheduled, a union has warned.
Some 45 workers are in the second half of a 48-hour stoppage over pay inequality, with Unite saying they earn £2 per hour less than workers doing the same job in nearby Bristol.
Only half of scheduled collections have recently taken place in the Bath and North East Somerset Council area.
Contractors Kier said it understood residents were "being inconvenienced".
"We thank you for your patience and help during the disruption, and for continuing to recycle," read a statement on the company's website.
Jerry Pickford, Unite's regional officer, said the firm was "fiercely fighting a rear-guard action to defend [a] glaring pay inequality".
"Our members are angry that they earn £2 less an hour for delivering exactly the same service with a two person crew, while workers in nearby Bristol earn more, but operate with a three person crew," he said.
"If you do the same job you should get the same pay."
Strike action is scheduled to continue with a series of 48 hour stoppages starting at 00:01 on:
Thursday 21 January and Friday 22 January 2016
Thursday 28 January and Friday 29 January 2016
Thursday 4 February and Friday 5 February 2016
Thursday 11 February and Friday 12 February 2016
On Wednesday, Bath and North East Somerset Council offered to pay residents who were willing to help collect waste.
It said it was keen to hear from people interested in joining the collection crews on a temporary paid basis.
Kier is contracted to work with the authority on its in-house refuse collection service until next year.
"The council is doing its utmost to resolve the current difficult recycling situation, which is not of our making," a council spokesman said.