Taunton Deane Borough Council may exit Southwest One deal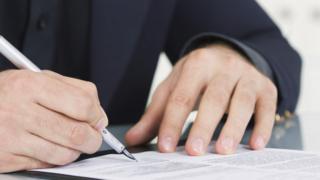 A second Somerset council is likely to cut short its contract with joint venture firm Southwest One.
In 2007 Taunton Deane Borough Council agreed a 10-year deal with Southwest One until November 2017.
Southwest One, which is 75% owned by IBM, carries out administrative and back office tasks for the council.
Somerset County Council is also leaving the deal after disputes over the savings it promised to deliver.
'Good value'
A spokesman for Southwest One said: "As we near contract end in 2017 the joint venture partners will decide how they wish to proceed and notify Southwest One when appropriate."
The Taunton Deane scrutiny committee held a meeting on Thursday where they were supportive of plans to make an early exit from the deal.
Scrutiny committees do not make recommendations, but their views are taken to the full council meeting where the final decision is made.
Taunton Deane council leader John Williams said the deal had saved them "just short of £3m" once transition costs of moving services back in-house were taken into account.
He added: "It has proved to be good value for us, we haven't made as much on procurement savings as we anticipated, when we first set out.
"But if you look on the percentage we've made on procurements, in terms of our overall spend it's about the right percentage."
Procurement savings are made when the council secures a contract with a provider at a competitive price.
The Southwest One partnership was set up between the county council, Taunton Deane Borough Council and Avon and Somerset Police in 2007.
At the time the then Liberal Democrat-led authority said it would save it about £180m over 10 years.
But in 2012 the private company launched legal action against Somerset County Council, in a dispute over allegations the firm was failing to deliver promised savings.
Southwest One tried to sue the authority for £25m, but the matter was settled out of court the following year.