Glastonbury bank closures prompt musical protest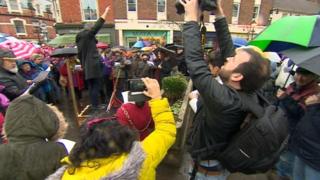 People have gathered in the centre of Glastonbury to sing the hymn Jerusalem protesting against the proposed closure of all the banks in the town.
HSBC closed its branch in November, and both Lloyds and Barclays have announced they will do the same in the spring.
The banks said falling customer numbers at counters had prompted the closures.
Glastonbury Festival organiser Michael Eavis was among the crowd and said it was "absolutely outrageous" that town visitors could not get to a bank.
He said if the big banks went, their customers should change banks.
Mr Eavis said: "Glastonbury people really care about issues and we fight every inch of the way - we are going to succeed here. Five hundred people have turned up in the rain to protest about it.
"Two million people come to this town each year of which I bring 200,000, and they cannot get to a bank - It's absolutely outrageous."