Somerset hospital alert downgraded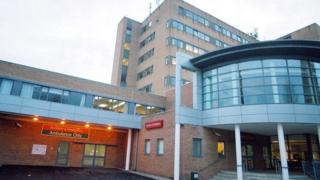 Hospitals in Somerset have said "intense pressure" on services has eased and an alert has been downgraded.
Earlier in the week Musgrove Park and Yeovil District were placed on black alert - the highest level.
Health bosses said "unprecedented demands" led to "gridlock in the system".
The situation escalated on Wednesday with the closure of the M5 near Bridgwater, which slowed patient discharge.
In a statement Somerset Clinical Commissioning Group (CCG) confirmed the system is now on 'red alert' - one level less than black.
Dr Ed Ford, Somerset CCG's GP Lead for Urgent Care Services, said there had been a "tremendous efforts over the last 24 hours" to ease the situation.
He added: "Delays in discharging patients to a community hospital bed, residential care or nursing home has presented some challenges on occasions and we simply ask for some flexibility from patients and their relatives so that district hospital beds remain readily available for our sickest patients."
People with minor illnesses are still being asked to not attend hospital accident and emergency departments or telephone 999.