River to be widened to prevent Somerset Levels flooding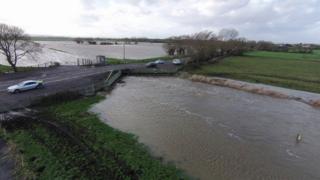 A manmade river in Somerset is due to be widened in order to help prevent flooding on the Somerset Levels.
The Somerset Rivers Authority first outlined the idea in its 20-year flood action plan and it follows on from the Beer Wall flood defence works which were carried out last year.
The project involves widening the River Sowy as well as de-silting and raising banks along the King Sedgemoor's Drain.
A meeting is planned next month where the go-ahead is expected to be made.
'Massive benefits'
The River Sowy and King's Sedgemoor Drain runs from Bridgwater to Dunball to divert water away from the River Parrett.
It means floodwater from the nearby Somerset Levels can flow into the River Parrett and therefore prevent flooding.
John Osman, chairman of the Somerset Rivers Authority, said: "You could potentially see massive benefits and massive reductions in the amount of floodwaters that are retained on the fields and villages of Somerset.
"Some predictions have said there'll be an 80cm drop in water levels over two days, so it's a big scheme with lots of benefits."
The work will cost about £3.7m and will see the River Sowy widened by two to four metres (approx 6 - 13 feet).
The Sowy was dug out in 1969 to alleviate flooding but was made 57% under capacity to save on costs.
Although the water flow was below capacity, the rivers authority has said other works had been done to make up for the lack of capacity.
This included building a sluice at Monk's Leaze Clyse and spillways at Allermoor's and Beazley's to help floodwater drain off the land more easily.
Last year, the rivers authority paid for flood protection work on the A372 at Beer Wall to put in culverts under the bridge so larger volumes of water could pass through.
The A372 was closed for several weeks due to the winter flooding in 2013-14.
Somerset Levels flood crisis
2013-14
1,500 hectares inundated by water

165 homes internally flooded

81 road closures forced

62 businesses and farmsteads flooded

3 months of lingering floodwater
Getty Images
"What we saw in the flooding events two years ago, this was a key pinch point," added Mr Osman, who is also the leader of Somerset County Council.
"This was an area where the water just could not get away so by doing the work we've done under the A372 and then widening the river we'll be able to get the water away quicker so it won't back up and it won't flood land and properties."
The Environment Agency is carrying out the research and modelling work for the project. It will also be responsible for its maintenance once the work is completed.
If approval is given at the board meeting on 10 February, work is expected to begin in the autumn.