Dunster Castle to open underground Victorian reservoir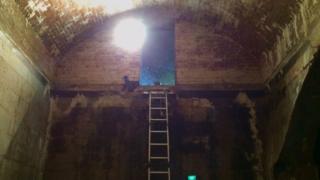 Work has begun to open an underground Victorian reservoir to the public.
The reservoir at Dunster Castle in Somerset held about 40,000 gallons (182,000 litres) of water and supplied the castle and the village until 1960.
The National Trust is carrying out the work as part of its celebrations to mark 40 years since it took over the property from the Luttrell family.
General manager Seamus Rogers said: "The water was fed from a source at Broadwood Farm with a pipe network."
He added: "Broadwood Farm is higher up the hillside and therefore it was fed from the spring by gravity."
The reservoir was built in 1870 to meet the demands of Victorians who wanted to modernise their homes with running water for flushing toilets and baths.
At the moment, the reservoir can be seen from a grill but it can only be accessed by a ladder by National Trust staff.
Visitor services manager John Lax said: "The plan is to have a set of steps down to a viewing platform or an area which allows visitors to have a walk around within the reservoir."
The hope is to open the reservoir in March.