Bath church supports 200 Peshawar bomb victims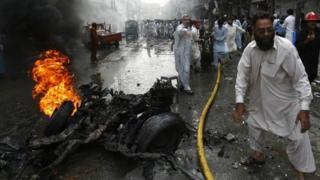 Hundreds of survivors of the 2013 terrorist church bombings in Pakistan have been helped by a British church community.
St Philip and St James churches, in Bath, began helping the victims of the All Saints Church bombings by delivering medical supplies.
Since then, the work has developed into providing therapy and counselling to children and families in Peshawar.
Reverend Alan Bain said many had experienced trauma after the bombing.
'Positive results'
On 22 September 2013, two suicide bombers killed 81 people and injured many others as they left for Sunday Mass from All Saints Church in Peshawar.
During the past year, project leader Qamar Rafiq from Twerton, has been in Pakistan overseeing the work, which has now helped about 200 people.
Mr Rafiq, said: "One couple came to me and the husband told me they had lost one of their children.
"His wife would get up in the middle of the night and start screaming and crying."
"The trainer told them that whatever challenges they faced in their lives, they needed to share and tell people.
"These techniques helped a lot and after three months, we got some positive results," he said.
The after-effects of the bombings continue to be felt.
"If you're a child and you had your parents blown up in front of you the trauma is incredible," said Rev Bain.
A few weeks ago an eight-year-old boy being helped by the church died from his shrapnel injuries.
"For me it's been a pilgrimage, in a sense, to recognise a tiny church on the edge of Bath can actually do something to alter people's lives in a very distressing part of the world," added Rev Bain.
"We've achieved a huge amount and it's been very moving. It's not been without tears or emotion on our part."