Homeless dogs sent gifts from the US following local council appeal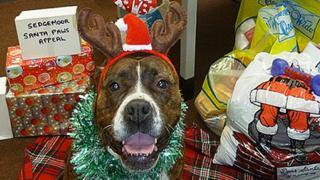 Rescue dogs in kennels in Somerset over Christmas have been sent presents from the US, following a council appeal.
Sedgemoor District Council launched its annual Santa Paws gift scheme for stray and homeless dogs in November.
Since then, it has received hundreds of shoe boxes filled with treats, including a parcel from Arizona.
The council said this year's appeal had been a "huge success" with a "whole room of festive treats" donated along with a gift marked from Arizona.
The council's Santa Paws appeal was set up to give homeless dogs a "Christmas to remember".
In the run up to Christmas, hundreds of dog chews, toys, blankets and treats donated by animal lovers were collected from shops and council offices across the county.
"Christmas is always a sad time of year for our dog wardens and the dogs who come in to the council," a council spokesman said.
"More dogs are brought in as strays during this time and it can be difficult re-homing them."
But with twice the number of gifts donated this year, compared to last year - dog warden Fiona Dickson said they were "absolutely delighted".
"The level of generosity is truly heart warming," she said.
"The dogs may not be able to say thank you but we can reassure everyone who donated there will be lots of wagging tails when we drop off the parcels of goodies at kennels across the area."