Bat maker honours 18-year-old charity auction pledge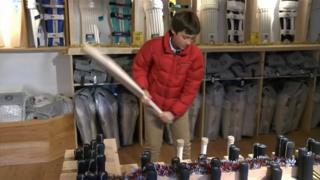 A manufacturer has honoured its pledge to make a bespoke cricket bat, 18 years after it was won at a charity auction.
David Meek, from Gloucestershire, paid "a large amount" for the Millichamp and Hall (M&H) bat at an Imperial Cancer Research ball in Torquay in 1997.
Last week, his wife Susan contacted M&H, asking them to fulfil the promise and make a bat for their grandson.
The Somerset firm agreed, even though the cost of a top-of-the-range bat has tripled in price in the past 18 years.
Mr Meek, from Dursley, said after making the donation, he suffered a riding accident and realised he "was never going to pick up a cricket bat" again.
It was only when he discovered his 11-year-old grandson George wanted a cricket bat for Christmas that he remembered the pledge.
"I went straight and put my hands on it and it was from 1997," he said.
"I told my wife 'Nobody's going to honour a pledge from before George was born' but she got in touch with the company anyway."
Despite the time elapsed, M&H, based at the County Ground in Taunton, agreed to make a bespoke bat for George.
Graham Fitt, of M&H, said: "As it turns out, it ties in with the current owner of the business - it was the same time he started back in 1997.
"So we thought as a gesture of goodwill we would honour it.
"They have gone up a little bit - but it's Christmas, isn't it?"