Cannington bypass opens for Hinkley Point nuclear plant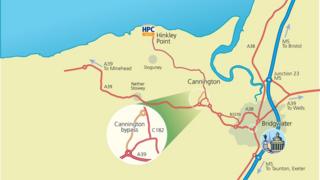 A new bypass for a Somerset village close to the nuclear plant at Hinkley Point has officially opened.
The one-mile (1.6 km) road links the roundabout on the A39 Cannington southern bypass with the C182 which leads to Hinkley Point.
EDF Energy, which plans to build a new nuclear power station at Hinkley Point, paid for the bypass as part of a £16m package of road improvements.
Somerset County Council worked in partnership with EDF on the road build.
'Antiquated and Victorian'
Hinkley Point C site construction director Nigel Cann said: "The original bypass was like half a bypass really.
"This completes the road around Cannington."
Other road changes include new roundabouts on the A39 at Washford Cross and Sandford Corner and improvements at Taunton Road/Broadway in Bridgwater.
The energy firm anticipates more than 80 per cent of the aggregate material needed for the Hinkley Point C project will come by sea rather than by road.
Cannington Parish Council chairman Colin Allen said: "It's important because our village is antiquated and Victorian in its structure and we in our village lived in fear with all this traffic going through.
"It would be an enormous amount of traffic and we're so delighted with this bypass."
The road will be adopted as a public highway by Somerset County Council so it will manage its future maintenance.
Although a new nuclear plant is planned at Hinkley Point, the energy firm has not yet made its final investment decision.