Bishop of Taunton visits flood-affected families in Moorland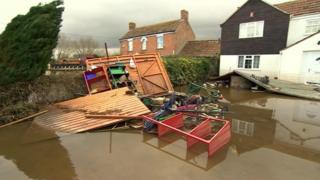 The Bishop of Taunton is visiting flood-affected families in Moorland who will be spending their first Christmas at home since the floods in 2013-14.
During the winter of 2013-14, large parts of the Somerset Levels flooded forcing families to be evacuated from their homes at short notice.
Ed Florey whose home was flooded said: "We're grateful to the bishop for making time to come out and see us."
Some 80 properties flooded in Moorland after the flood defences failed.
The Right Reverend Ruth Worsley said she wanted to offer a gesture of goodwill to people affected by flooding, not just those in Somerset.
"For some families and businesses in the Somerset Levels it has taken many months to return to some sense of normality."
Some 80 properties were flooded in Moorland and the church in the village was also deluged and is yet to re-open.