Friend scheme for dying patients extended at Somerset hospital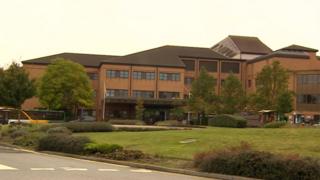 A scheme providing people to sit with dying hospital patients, has had its funding extended until 2017.
The Marie Curie Companions service was launched at Musgrove Park Hospital, in Taunton, Somerset in July 2014.
Since then, 28 specially-trained volunteers have kept nearly 200 patients company in the last days or hours of their life.
Gaye Glanfield, a volunteer companion, said: "Companionship especially at Christmas is most important for all."
Trained to provide emotional and practical support for dying patients, the volunteer friends also offer a respite for patients' families and carers throughout Christmas.
Julia Bearne, from Marie Curie, said patients "may have family present" but they are often "overwhelmed and isolated themselves".
'Very difficult time'
"The reality for a small number of dying patients in hospital is that they may spend long periods of time alone or have little company," she said.
"We know from feedback that the companion volunteers offer much-needed comfort and support to patients and their families at a very difficult time."
Dr Tom MacConnell, the hospital's consultant cardiologist, said he was "delighted" funding had been extended: "They have proved a much valued support to this very important group of patients and their families".
The service is funded by Marie Curie in partnership with Musgrove Park Hospital.