Somerset rivers dredged to provide flood protection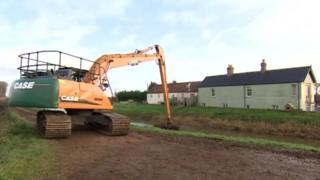 Dredging has begun along the River Parrett to provide extra protection against flooding in Somerset.
The work is part of a programme of dredging funded by Somerset Rivers Authority (SRA) taking place across the Levels following the flooding in 2014.
It has been designed to work in conjunction with the Environment Agency's £2.5m investment in temporary pumps and pumping facilities.
The work will concentrate on the area around Northmoor pumping station.
The work follows a dredge of the Rivers Parrett and Tone in 2014 that was identified as producing the biggest flood reduction risk on the Somerset Levels and Moors.
The SRA said hydraulic modelling has shown that the dredge - combined with extra pumping power - would "significantly cut the risk of flooding to more than nine out of 10 properties in Northmoor and Saltmoor, reduce closure of the A361, and clear the moors of water more quickly".
John Osman, chair of the SRA said the work "will help allow the water to make its way through the water system quicker, avoid any hold-ups and stop land and homes from flooding".
Further dredging is due to start in February 2016.