Bid to save Glastonbury's last two remaining banks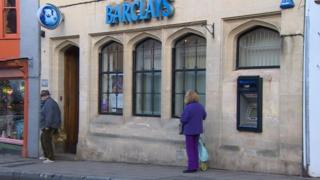 A campaign has begun to stop the last two remaining high street bank branches in Glastonbury from closing in April.
Barclays and Lloyds say their branches are closing due to their declining use and the growth in online banking.
The closures will mean the nearest cash machines will be in Street, two miles (3 km) away.
Town councillor John Keery, said: "It will really slow up business in Glastonbury and cause difficulties for small business owners."
'Access to cash'
The town, which has about 10,000 residents, recently saw HSBC closing its branch last month.
Mr Keery added: "We're a town of small businesses and the problem is small businesses need access to cash.
"They need to be able to get rid of cash at the end of the day, they don't want to be hoarding amounts of money on their premises."
He added that the closures would also impact on tourism and town events such as the annual Frost Fair.
Barclays said the number of customers at its Glastonbury branch had continued to fall but people would still be able to use its branch in Street or the local post office.
A spokesman for Lloyds said 91% of customers who use its Glastonbury branch already use other branches.
The bank apologised for any inconvenience caused by the closure but added it was simply responding to the changing ways people are banking.
A number of towns in Somerset have lost their banks in recent times including Williton, Dulverton and Martock.
The campaign to stop the closures will be debated at Glastonbury Town Council meeting on Tuesday evening.