Farrington Gurney double fatal crash woman 'saw driving as game'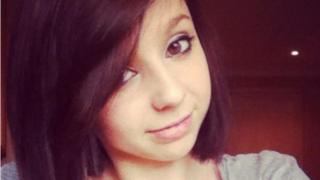 A woman posted social media updates about buying a new car, months after killing two people in a crash, a court has heard.
Jasmine Larder, of Baltonsborough, has been sentenced to 15 months' detention in a young offenders' institution.
The 20-year-old was convicted of two counts of death by careless driving after the crash on 27 June 2014.
The court heard she posted about her new car months after the crash with the caption "back in the game".
'Back in the game'
The crash happened on the A39 in Farrington Gurney when Larder's car, a VW Polo hit a tree, spun across the carriageway and hit another tree.
Her best friend, Ellie Clare, 19, and George Stott both died.
Two other passengers, Harry Rendell, and Rebecca Chubb were both seriously injured.
During sentencing, Judge David Ticehurst, said the impact of her driving was "incalculable" and despite being interviewed by police in September, she went on to buy a new car.
He added: "At the end of October you acquired a replacement car, equipped it with a lower suspension and arranged for the transfer of your personalised number plate.
"You celebrated that part with the following message on social media 'have new coils. So it begins. Back in the game'."
"That does not suggest someone who is racked with guilt at causing the deaths of two of your friends.
"It suggests someone who sees driving as a game or a sport."
The court heard that on a different occasion she had written off another car while driving her Polo.
Larder, of Kite Lane, Baltonsborough, Glastonbury, was also disqualified for driving for five years.