Transgender prisoner Tara Hudson 'feared being raped'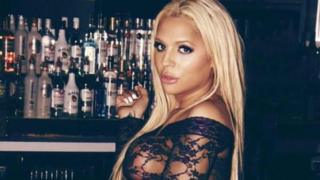 A transgender woman sent to an all-male prison has said she was so frightened she was going to be raped she "thought of taking her own life".
Tara Hudson, 26, from Bath, was jailed for 12 weeks after she admitted head-butting a barman.
She was transferred from all-male HMP Bristol to HMP Eastwood Park after 150,000 people called for her to move.
Hudson, who was released on Friday, said being in a male prison was "horrific".
She spent seven days at HMP Bristol before being moved to the all-female Eastwood Park.
'Very scary'
"I've lived my life as a female for over half a decade and to be incarcerated at a male prison was too much," she said.
"I didn't think I'd end up in a men's prison.
"I had a lot of men trying to get me to show my breasts, I'd seen a lot of violence - it was very, very scary.
"I thought I was going to get attacked, I thought I may be raped.
"That kind of sounds dramatic but at the end of the day I've a large bust, I have bleached blonde hair, I've worked as a glamour model.
"It was not the right place for me."
Hudson, who is still legally a man, said she was put on a segregation wing at Eastwood Park.
"I wasn't allowed any interaction with the other female prisoners. I was on lock-up for 23 hours a day."
She said she knew nothing of the campaign to get her moved.
"When I did find out I was so humbled," she said.
'Complete hell'
"It meant people on the outside recognised who I was, they knew I'm female and I'd lived my life a female.
"That support has made me feel like I am a woman."
She said hearing fellow trans prisoners Vikki Thompson, 21, and Joanne Latham, 38, had killed themselves in all-male prisons had made her determined to campaign for a change in the law.
"My heart dropped because I knew what those two girls went through.
"I would have done the same I think.
"I didn't ask to be transgender, they didn't ask to be transgender - we were all thrown into the situation that made our lives complete hell.
"If something doesn't change soon then there will be more deaths.
"I'm not doing this for publicity, I'm doing this for those two girls who killed themselves."